Wow, what a weekend! It started on Thursday, with a rehearsal of my participation in the Kennedy Center's Performing Arts Series. This is an amazing series of cultural and artistic performances broadcast live via satellite and web feed FREE to schools nationwide! I went to Hylton High School, part of the Prince William (County) Network, where an impressive broadcast studio is run by students and their advisors. The rehearsal Thursday afternoon was followed by the live performance Friday morning. I was interviewed by Maria Salvadore, professor of children's literature at the Univ. of Maryland, in front of a studio audience of ninth-graders from Battlefield High School in Haymarket, VA. (Thanks to their teacher Brandie Provanzano for bringing them!) Then I took questions three ways—from the live audience, from phone-in callers, and from real-time e-mailers.
What an innovative program! Check out their website for this season's schedule, which includes programs on dance, music, and theater as well as literature. And the programs are FREE—all a school has to do is register!
The Performing Arts Series program
Many thanks to Maria, Ginger Rogers and Kenny Neal of the Kennedy Center, and the students and teachers at Hylton for their help with my appearance. I had a terrific time!
I went back to the hotel and got all dressed up for the evening's event: The National Book Festival's Opening Gala. This is a black-tie event for the authors and the sponsors of the festival. Here's a photo of me with my handsome escort, who also happens to be my husband: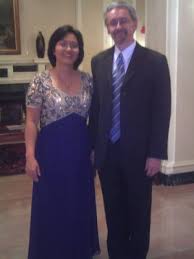 And with our daughter Anna, 16: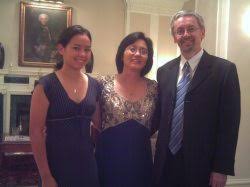 The gala was held at the Library of Congress's Jefferson Building. A reception in the Great Hall was followed by presentations in the Coolidge Auditorium. The first speaker was Laysha Ward of Target, one of the event's major sponsors. She was followed by Dr. James Billington, Librarian of Congress, who introduced Laura Bush. Mrs. Bush, a former school librarian, has hosted the National Book Festival since its inception in 2001. She spoke about how the First Book program is raising money to replenish the collections of libraries hit by the recent hurricanes. Then she did a brief introduction of each of the four authors who would be giving presentations that evening. After she sat down, Dr. Billington came back onstage again, to introduce the first author…
*ME*!! I could hardly believe it, but there I was in my sparkly dress (number nine. By which I mean, I had bought and returned EIGHT others…) in front of a very distinguished audience. I spoke about why I write for young people, and as we'd all been asked to read from a recent work, I read a passage from PROJECT MULBERRY. My presentation was followed by appearances from historian David McCullough and novelists Sue Monk Kidd and Tom Wolfe.
My comments at the National Book Festival opening night gala:
I am thrilled and honored and stunned to be part of this wonderful event; thank you, Mrs. Bush and Mr. Billington and Roberta Stevens for inviting me. I have two teenagers at home who see it as their job to keep me firmly down to earth. When I received the incredible news that my book A Single Shard had won the 2002 Newbery Medal, my son's response was: "Gosh, Mom, think of all those kids all over the country who are going to be forced to read your book now." Down to earth is mostly a good place to be, but once in a while it's nice to float off, and standing here in front of such a distinguished audience, I'm really floating. Thank you for being here.
Tonight I'd like to answer a question I'm often asked, which is, 'Why do you write for children?' I'm going to imagine that the question has been posed by someone who writes for adults—like this: 'Why do you write for children?' And here is my response:
"You've published a book for adults? Congratulations, that's terrific! You know, I bet you want your book to sell a lot of copies, don't you? And stay in print for longer than one season? I mean, you'd like it to be around for five or ten years or even longer, right?
"Well, I'm working my behind off to make that happen. Yeah, that's right. I'm doing what I can to help ensure a new generation of readers and um, book-store customers. Because guess what—if they don't read me now, they're not gonna read you in the future.
"So the next time you meet a children's author, someone who devotes their life's work to creating good literature for kids—you know what you should do? You should fall down on your knees and WORSHIP her!"
So you see, writing for children is for me a way of investing in the future. But the audience for my books is not limited to young people. Teachers, librarians, reviewers, parents, and other caring adults read children's books. There are also the many wise readers who have made the joyful discovery that a good story is a good story, no matter where it is shelved in the library or bookstore. I guess you could say that I write books for young readers who will one day be adults, and for any reader who was once a child. The Russian author Maxim Gorky nailed it when he said, "You must write for children the same way you write for adults, only better." I love that challenge….
Children's authors enjoy a special bond with their readers. We get a LOT of mail. 'Dear Ms. Park, I loved your book, I have read it fourteen times.' I think about that often when I write; I try to make every sentence worth reading fourteen times. 'Dear Ms. Park, I have read all your books, please would you hurry up quick and write some more.' Who does she think I am, Alexander McCall Smith? 'Dear Author Linda Sue Park, I'm really sorry because I'm sure you're a very nice person, but A Single Shard is the boringest book I ever read.'
I hear from adult readers too. Last year I was in Ohio to speak at a conference. Shortly before my presentation, a woman came up to me and asked for a moment of my time. She said she had driven several hours to come hear me speak, and had felt compelled to do so after reading A Single Shard, a novel about an orphan who lives in a potters' village in 12th century Korea. She had come upon the book during a terrible time in her life, when she was feeling overwhelmed by futility and despair after an ugly divorce. Then she told me through her tears—she was crying, we were both crying—that in the pages of A Single Shard she had found the courage to pick herself up and get going again.
I can tell you in all honesty, I did not write that book as a self-help guide for divorcees. But that is one of the wonderful things about books—how they can take on a life of their own beyond that which their authors gave them. When one of my books gets published, the story is no longer mine alone; it belongs to every reader who values it, no matter what their age.
On a selfish level the reason I write books for children is because I have a blast doing it. I've been asked to read from one of my books tonight, and I've chosen the start of Chapter One of my latest novel, PROJECT MULBERRY. The narrator is 12-year-old Julia Song, a Korean-American who lives in a suburb of Chicago and whose best friend is a white boy named Patrick.
Patrick and I became friends because of a vegetable.
Not just any vegetable.
A cabbage.
And not just any old cabbage. A Korean pickled cabbage. Which isn't a round cabbage like Peter Rabbit would eat, but a longer, leafier kind. It gets cut up and salted and packed in big jars with lots of garlic, green onions, and hot red pepper, and then it's called kimchee. Kimchee is really spicy. Koreans eat it for breakfast, lunch, and dinner.
I don't like kimchee. My mom says that when I was little, I used to eat it. She'd rinse off the spiciness and give me a bite or two. When I got to be six or seven years old, she stopped rinsing it. Most Korean mothers do that, and most Korean kids keep eating it.
Not me. I hated the spiciness, and I still do. My mom keeps telling me I should eat it because it's refreshing. But what's so refreshing about having your mouth on fire?
My family used to tease me about not liking kimchee. My dad said maybe it meant I wasn't really Korean. "We should have your DNA tested," he'd tell me. The seven-year-old snotbrain named Kenny who lives with us—otherwise known as my little brother—would wave big pieces in front of me and threaten to force me to eat them.
Another thing about kimchee is, it has a really strong smell. Even though it's stored in jars, you can still smell it, right through the jar and the refrigerator door. It sends out these feelers through the whole house.
Three years ago when I was in fourth grade, we were living in Chicago. I'd made friends with a girl named Sarah. The first time she came over to play, she stopped dead in the entryway and said, "Ewwwwww! What's that smell!??"
I'd never really noticed it. Smells are funny that way—they can sort of disappear if you live with them all the time. But Sarah was so grossed out that I was really embarrassed.
I asked my mom to stop making kimchee, but she told me I was being unreasonable.
I met Patrick two years ago, on our second day in Plainfield, a Saturday morning. He came down the steps of his front porch and said hello and told me his name. I said hi back and told him mine.
"Can I see inside your house?" he asked.
"Sure," I said.
As we walked in the door, Patrick tilted his head and sniffed.
I braced myself for his reaction.
"Whoa," he said. "What's that? It smells great!"
That was the beginning of Patrick's love affair with kimchee. Whenever he eats dinner with us, my mom puts one bowl of kimchee on the table for the family and gives Patrick a whole private bowl for himself. He eats it in huge mouthfuls, sometimes without even adding any rice. I can hardly stand to watch him.
Maybe he's the one who needs his DNA tested.

(End of reading)
The National Book Festival was started by a visionary librarian—a children's librarian—who happens to have some pretty good connections. The festival is for me an embodiment of the power of stories and books to link the past with the future. It also honors the institutions which preserve and share the collected wisdom of the ages—our libraries, especially this amazing Library of Congress. I hope all of you share my wish: May this wonderful event endure and become one of our country's most cherished traditions.
* ~ * ~ * ~ * ~ *
I got to chat a bit with Sue Monk Kidd backstage and really enjoyed talking with her. I also learned that David McCullough is a big fan of classic children's literature! The most frustrating part of the evening was being backstage during the other presenters' talks—I couldn't hear them. But the event was broadcast on C-Span's BookTV, and will also be archived as a webcast on the Library of Congress website, so I hope to be able to hear them very soon. (I'll post again when the feed is available.)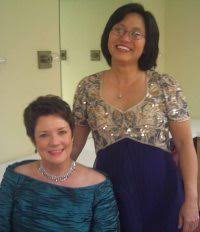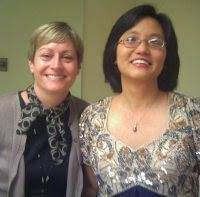 After the speeches, we moved to the mezzanine for dinner. I had a wonderful time speaking to several of the guests. Steve and Cokie Roberts! Dikembe Mutombo of the Houston Rockets! 'Trading Spaces' designer Laurie Smith! Authors Sharon Creech and Patricia Reilly Giff and Pat Mora and Jack Gantos (hurrah for the 'home team'!)! Authors David Baldacci and Jeffrey Deaver and poet Dana Gioia! Former NBA legend and now reading ambassador Bob Lanier! Even Secretary of State Condoleeza Rice (talk about surreal…)! As if I weren't dazzled enough just meeting these folks, they were all kind enough to tell me how much they had enjoyed my presentation.
An interesting moment: I was taken aside and interviewed briefly by a New York Times reporter, who was gathering responses from authors on a couple of controversies. There was an anti-war demonstration scheduled for the next day; it would take place within a stone's throw of the festival. Also, a day earlier, The Nation magazine had published a letter from poet Sharon Olds which explained that she was pulling out of the festival as a way of protesting the war and the current administration.
The reporter wanted my comments. I said I was there to support the festival—that I wanted it to last forever, no matter who was in the White House. My comments were not used in the article, but most of the other authors who were quoted expressed similar thoughts.
On Saturday, the day of the festival itself, it became clear that many of the protesters did not share Ms. Olds' sentiments; they wandered from the demonstration to the festival (where you could in fact buy books in every color of the political spectrum…) and back again. I was pleased that my teenage daughter got to see such a striking example of democracy in action—a peaceful protest, an official festival, side by side. She also got to hear Joan Baez—Joan Baez—sing!! (There was a concert at the Washington monument, part of the protest.)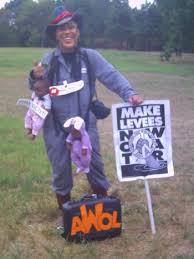 In my presentation I talked about PROJECT MULBERRY and read my new picture book BEE-BIM BOP as well. I had a wonderful audience—thanks to everyone who attended my session, a real honor with so many other choices at the festival! And my signing afterwards was wild—I was one of a dozen authors in that time slot, the last one of the day. I had to stay 15 minutes after everyone else was finished—the festival was over, they were starting to break it down, and the only thing that was still going on was me signing for those patient folks who had stood in line for me all that time!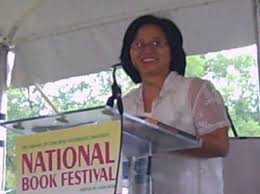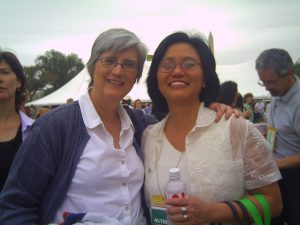 It was a busy day, but I did get to hear at least part of the presentations by authors Rene Saldana and Pat Mora. As always, my favorite part was the opportunity to meet so many of my readers—thrilling and humbling at the same time. Like the boy (I think his name is Daniel), who announced to the staff helping out at the signing: "I can't believe it—I'm about to meet my favorite author!" and then told me he had read SHARD maybe 50 times ("I lost count," he said…).
It doesn't get any better than that.