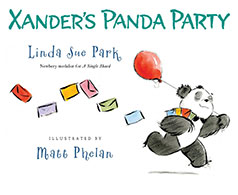 by Linda Sue Park
illustrated by Matt Phelan
Clarion Books, September 3, 2013
Language: English
paperback: 978-0547558653
40 pages, ages 3-5
Xander planned a panda party. Yes, a dandy whoop-de-do!
But Xander was the only panda. Just one panda at the zoo.
The zoo's paucity of pandas doesn't impede Xander's party planning for long. He decides to invite all the bears. But Koala protests. She's not a bear—she's a marsupial! Does that mean she can't come? Xander rethinks his decision to invite only bears, and "Calling all bears" evolves into "Calling all creatures."
This book introduces animal taxonomy in a wonderfully engaging way, and the celebrated artist Matt Phelan's charming ink and watercolor paintings are the icing on the cake.
A read-aloud whoop-de-do!
2014 ALA Notable Book
2014 Bank Street CBC Best Children's Book of the Year
2014 CCBC Choices
2014-2015 Georgia Children's Picture Storybook Award Nominee
2016 Grand Canyon Reader Award Nominee
2014 IRA Teachers' Choices Reading List
Junior Library Guild Selection
2014 Michigan Library Association's Mitten Award Honor List
2015 Pennsylvania Young Reader's Choice Award Nominee
2013 School Library Journal, Best Books of the Year
2015 Utah Beehive Award Nominee
2015 Wyoming Buckaroo Book Award Nominee