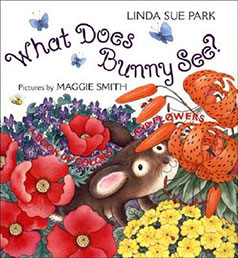 by Linda Sue Park
illustrated by Maggie Smith
Clarion Books, March 28, 2005
Language: English
paperback: 978-0618234851
32 pages, ages 4-8
A rabbit explores a garden, finding flowers of every color, before hopping home for a nap and dreams of rainbows.
Rhyming clues invite the reader to answer the question: What does bunny see?
With sprightly verses and cheerful illustrations, each turn of the page yields a colorful surprise.
This book was inspired by the work of textile artist Eve Botelho. To see more of Eve's amazing work, visit her website.
2006 Bank Street Best Children's Books of the Year
2006 Kansas State Reading Circle Recommendation