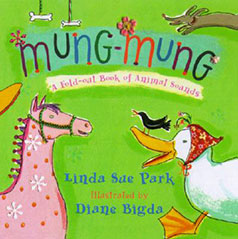 by Linda Sue Park
illustrated by Diane Bigda
Charlesbridge, September 2004
Language: English
paperback: 978-0547076713
36 pages, ages 2-7
Find this book at your local library
or your favorite used bookseller.
Mung Mung: a Fold-out Book of Animal Sounds
In this enchanting peek-a-boo book from Newbery Medal winner Linda Sue Park, babies can imitate animal sounds in 19 languages. What kind of animal says GAV-GAV in Russian, Bo-Bo in Hindi, and WOW-WOW in Spanish? Make a guess, then lift the flap.