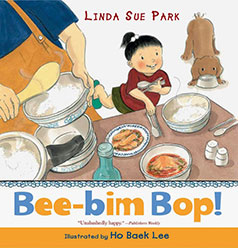 by Linda Sue Park
illustrated by Ho Baek Lee
Clarion Books, September 12, 2005
Language: English
paperback: 978-0547076713
board book:978-0063268029
32 pages, ages 4-8
Bee-bim bop ("mix-mix rice") is a traditional Korean dish. In bouncy rhyming text, a hungry child tells of helping her mother make bee-bim bop: shopping, preparing ingredients, setting the table, and sitting down to enjoy a favorite meal.
The enthusiasm of the narrator is conveyed in the whimsical illustrations, which bring details from the artist's childhood in Korea to his depiction of a modern Korean-American family.
The book includes Linda Sue's own bee-bim bop recipe!