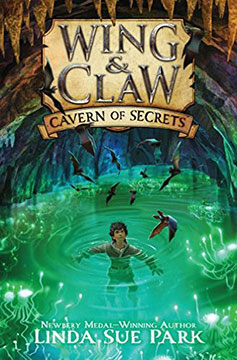 by Linda Sue Park
illustrated by Jim Madsen
HarperCollins, March 1, 2017
Language: English
Hardcover: 978-0062327413
352 pages, ages 8-12
Wing & Claw: Book Two of Three
In this second installment of the Wing & Claw series, a young apothecary meets the challenges of new heights of danger, exciting adventure, and intriguing botanical magic.
Raffa Santana has spent all winter hiding in the harsh wilderness of the Sudden Mountains, and now it's time to return home. Home, where his parents will help him fight back against the vile Chancellor who has captured and altered the wild creatures of the Forest of Wonders. Home, where Raffa's beloved companion, Echo the bat, will recover from his mysterious sickness.
To get there, Raffa must make a treacherous journey across Obsidia. Along the way, he will discover a luminous plant that might be the key to saving the creatures stuck in the Chancellor's grasp … if only Raffa can unlock the plant's secrets and deliver the cure to the captive animals.
Cavern of Secrets explores one boy's responsibility to his friends, family, and the wider world.
Junior Library Guild selection