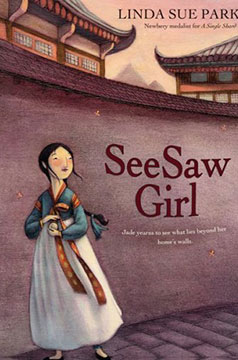 by Linda Sue Park
Clarion Books, August 23, 1999
Language: English
Hardcover: 978-0395915141
Paperback: 978-0547248882
96 pages, ages 8 and up
Impatient with the constraints put on her as an aristocratic girl living in 17th-century Korea, 12-year-old Jade Blossom determines to see beyond her small world.

Jade Blossom can never go beyond her family's inner court. All girls from good Korean families must learn to sew, do laundry, and work in the kitchen. This prepares them for their future lives in their husbands' inner court.

Jade has other interests. She longs to take trips to the mountains and the marketplace. If only she could read and paint, but these are things only boys can do. Jade won't stop thinking about the world beyond the high walls of her home. Then one day she secretly sets off to do what no other girl her age has ever done before.
2000 Bank Street Best Children's Books of the Year
1999 New York Public Library, 100 Titles for Reading and Sharing
1999 Riverbank Review Book of Distinction
2002 Texas Bluebonnet Award Nominee