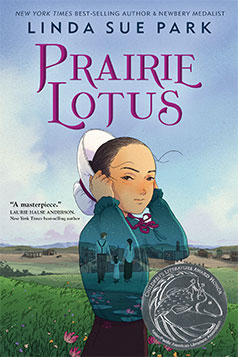 by Linda Sue Park
Clarion Books, March 3, 2020
Language: English
ISBN: 978-1328781505
272 pages, ages 10-12
Prairie Lotus is a powerful, touching, multilayered book about a girl determined to fit in and realize her dreams: getting an education, becoming a dressmaker in her father's shop, and making at least one friend. Acclaimed, award-winning author Linda Sue Park has placed a young half-Asian girl, Hanna, in a small town in America's heartland, in 1880. Hanna's adjustment to her new surroundings, which primarily means negotiating the townspeople's almost unanimous prejudice against Asians, is at the heart of the story. Narrated by Hanna, the novel has poignant moments yet sparkles with humor, introducing a captivating heroine whose wry, observant voice will resonate with readers.
Resources, Chinese and Chinese American, late 19th century
Native American resource guide: A PowerPoint presentation compiled by author and educator Andrea Page (Oceti Sakowin Hunkpapa):
Hover over the preview below to reveal the toolbar for moving between pages and downloading the PDF.
Interviews:
Podcast: Connections with Evan Dawson, "Author Linda Sue Park on her new book, "Prairie Lotus," WXXI (Rochester, NY), 20 March 2020
"Fan Fiction, 50 Years Later," Linda Sue Park, The Writer's Life, Shelf Awareness, 13 March 2020
"Q&A with Linda Sue Park," Krystyna Poray Goddu, Publishers Weekly, 27 February 2020
"Linda Sue Park Rewrites Little House on the Prairie with an Asian-American Heroine," Nalini Jones, The New York Times Book Review, 6 March 2020
"I have always admired the subtle power and gentle clarity of Linda Sue Park's writing. Even when dealing with truly sensitive subject matter, she always manages to bring out the basic humanity in her characters in ways that make her work accessible to readers of all ages. Prairie Lotus is no exception. If anything, this may be her most ambitious and best book yet. It deals with a theme—the development of the West— familiar to fans of Laura Ingalls Wilder. However, quite unlike Wilder's books, her non-European characters are neither stereotypes nor peripheral to the story. Rather than picturing the hard struggle to settle a "frontier," the book deals with relations between people of many backgrounds—European American, Native American and Asian American—as seen through the eyes of her beautifully realized main character, whose mixed ancestry never holds her back. It's a vivid picture of a setting, Dakota Territory, and a period, the 1880s, which has been the focus of countless westerns. Yet because of Park's empathy, understanding of the complexity of the coming together of cultures, and wonderful ability to create memorable characters, the readers of her story will see that time and place in an entirely different, more complex, and more realistic way."
—Joseph Bruchac (Nulhagen Abenaki citizen), author, storyteller, and educator