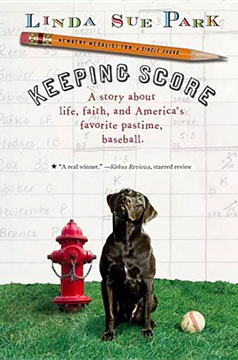 by Linda Sue Park
Clarion Books, March 17, 2008
Language: English
Hardcover: 978-0618927999
Paperback: 978-0547248974
208 pages, ages 9 and up
Both Maggie and her brother, Joey-Mick, were named after baseball great Joe D'Maggio. But they aren't Yankee fans. Their team is the Brooklyn Dodgers. And although Maggie doesn't play baseball, she knows the game. She can recite stats, understands complicated plays, cheers when the Dodgers win—and suffers when they lose.
But even with Maggie's support, the Dodgers fail to win the Series, season after season.
And the letters she sends to her friend and baseball mentor, Jim—serving in Korea—aren't answered. Nothing Maggie does helps. Maybe it doesn't make any difference at all.
Or maybe it does.
2010 Charlie May Simon Book Award nominee (AR)
Junior Library Guild Selection
2010 Nene Award Nominee (HI)
2010 Oregon Battle of the Books
2010 Prairie Pasque Award nominee (SD)