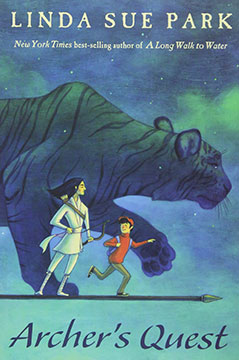 by Linda Sue Park
Clarion Books, 2006
Language: English
Hardcover: 978-0618596317
Paperback: 978-0440422044
176 pages, ages 10-12
In Dorchester, New York, Kevin is doing his homework when suddenly an arrow comes out of nowhere and pins his baseball cap to the wall. The man who shot the arrow claims he fell off a tiger … and wound up in Kevin's room. It's not long before Kevin realizes that the man, who calls himself Chu-mong, or Great Archer, is no ordinary burglar, but a traveler from far away in both space and time.
A visit to the local museum confirms that there was a king named Chu-mong in ancient Korea who was legendary for many accomplishments, including exceptional skill with bow and arrow. Kevin knows little about his own Korean heritage, but he understands that unless Archer returns to his people and his throne, history will be changed forever. And he's determined to help Archer go back, no matter what it takes.
2008 Black-Eyed Susan Award Nominee
2008 Kentucky Blue Grass Award Nominee
2009 Children's Choice Award Nominee (IA)
2009 Mark Twain Readers Award Nominee (MO, MASL)
2009 Sasquatch Award Nominee (WA)
2009 South Carolina Association of School Librarians Award Nominee
2009 William Allen White Children's Book Award Nominee (KS)
2010 Nutmeg Award Nominee (CT)
2010 Young Hoosier Book Award Nominee (IN)