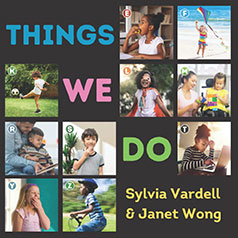 edited by Sylvia Vardell
and Janet Wong
HMH Books, October 20, 2021
Language: English
Hardcover: 978-1937057305
79 pages, ages 4 and up
What things do we love to do? In this book you'll find poems from A to Z, featuring action words and photos that will make kids eager to CLAP, DANCE, JUMP, LAUGH, WAVE, ZOOM, and more as you read the playful poems. This poetry anthology is ideal for children ages 4 – 7 and can be shared by families at home or by teachers in PreK – Grade 1 classrooms. Parents, caregivers, and educators will find useful tips and resources to help make learning even more fun. Pomelo Books is "Poetry PLUS"!

100% of the profits from this book will be donated to the IBBY Children in Crisis Fund.

The poets contributing poems for this anthology represent a wide variety of talents. Several of them are early childhood educators with years of experience and expertise in the classroom; several are environmental advocates and citizen scientists; several are active bloggers in the Poetry Friday community; and several are authors of award-winning books: Beth Brody, Joseph Bruchac, Jen Bryant, Mary E. Cronin, Linda A. Dryfhout, Margarita Engle, Janet Clare Fagal, Marilyn Garcia, Nikki Grimes, Carol Labuzzetta, Marty Lapointe-Malchik, Grace Lin, Molly Lorenz, Jone Rush MacCulloch, Pat Mora, Linda Sue Park, Moe Phillips, Jack Prelutsky, Janice Scully, Linda Kulp Trout, Padma Venkatraman, Carole Boston Weatherford, Leslie Stall Widener, Janet Wong, Jane Yolen, and Helen Kemp Zax.
CBC Hot Off the Press selection