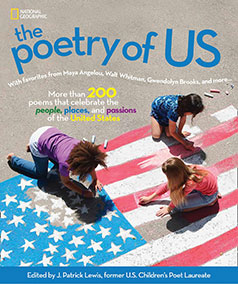 edited by J. Patrick Lewis
National Geographic Kids,
September 25, 2018
Language: English
Hardcover: 978-1426331855
192 pages, ages 8 and up
It's all about us! Join former U.S. Children's Poet Laureate J. Patrick Lewis on a lyrical journey through the United States to experience the wonders of America's people and places through 200+ inspiring poems and stunning photographs.

Celebrate the gift of language and the vibrant culture of the United States with this collection of classic and never-before-published poetry. Poems are arranged by region, from coast to coast, and among them you'll find works by Langston Hughes, Dorothy Parker, Robert Frost, Naomi Shihab Nye, Walt Whitman, Linda Sue Park, Charles Ghigna, and more. From the familiar to the surprising, subjects include people, places, landmarks, monuments, nature, and celebrations. Designed for sharing, but geared to younger readers, this beautifully illustrated treasury is a must-have for the whole family.