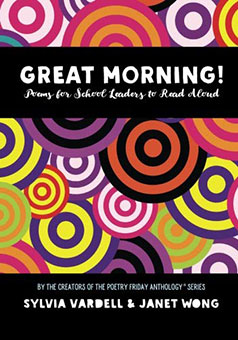 edited by Janet Wong and Sylvia Vardell
Pomelo Books, February 25, 2018
Language: English
Hardcover: 978-1937057282
178 pages, ages 8 and up
Great Morning! Poems for School Leader to Read Aloud
GREAT MORNING! Poems for School Leaders to Read Aloud features poems with ready-to-read intros and intriguing facts for a full year of morning announcements at school! 75 poems by 50+ poets cover topics such as:
safety drills, school forms, diversity, inclusion, transportation, kindness, compassion, willpower, mindfulness, volunteerism, reaching out, community, science, technology, and more.
Create a school culture of positivity using poetry as a tool! These poems are short and easy to read; they take just a minute to share. Readers can be principals, student leaders, office staff, custodians, lunch staff, specialist teachers, parents, and community guests.
50+ poets contributed poems to this book:
Alma Flor Ada, Brod Bagert, Michelle Heidenrich Barnes, Robyn Hood Black, Susan Blackaby, Merry Bradshaw, Lydia Breiseth, Joseph Bruchac, Kate Coombs, Cynthia Cotten, Kristy Dempsey, Margarita Engle, Janet Clare Fagal, Catherine Flynn, Xelena González, Lorie Ann Grover, Mary Lee Hahn, Avis Harley, Jane Heitman Healy, Sara Holbrook, Ann Ingalls, Julie Larios, Renée M. LaTulippe, B.J. Lee, Suzy Levinson, Elaine Magliaro, Kenn Nesbitt, Eric Ode, Linda Sue Park, Ann Whitford Paul, Greg Pincus, Jack Prelutsky, Bob Raczka, Heidi Bee Roemer, Caroline Starr Rose, Laura Purdie Salas, Michael Salinger, Darren Sardelli, Liz Garton Scanlon, Michelle Schaub, Laura Shovan, Buffy Silverman, Eileen Spinelli, Traci Sorell, Elizabeth Steinglass, Holly Thompson, Linda Kulp Trout, Amy Ludwig VanDerwater, Carol Varsalona, April Halprin Wayland, Carole Boston Weatherford, Kay Winters, Allan Wolf, Virginia Euwer Wolff, Janet Wong, and Jane Yolen.
Transform your regular "good morning" welcome into something fun and inspirational—and make any morning a GREAT Morning!