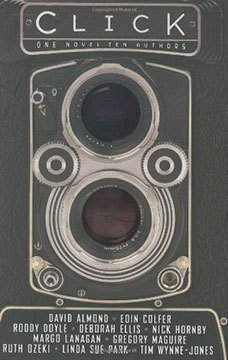 Linda Sue Park, contributor
Arthur A. Levine Books, October 1, 2007
Language: English
Hardcover: 978-0439411387
224 pages, ages 10 and up
Click: One Novel Ten Authors
A video message from a dead person. A larcenous teenager. A man who can stick his left toe behind his head and in his ear. An epileptic girl seeking answers in a fairy tale. A boy who loses everything in World War II, and his brother who loses even more. And a family with a secret so big that it changes everything.
The world's best beloved authors each contribute a chapter in the life of the mysterious George "Gee" Keane, photographer, soldier, adventurer and enigma. Under different pens, a startling portrait emerges of a man, his family, and his gloriously complicated tangle of a life.
The full list of authors includes:
Roddy Doyle, Booker Prize-winning author of A Star Called Henry; Nick Hornby, author of About a Boy; Ruth Ozeki, author of My Year of Meats; Margo Lanagan, Prinz Honor Award-winning author of Black Juice; Linda Sue Park, Newbery Award-winning author of A Single Shard; David Almond, winner of the Whitbread Award and Carnegie Medal and author of Skellig; Gregory Maguire, author of Wicked; Tim Wynne-Jones, two-time winner of Canada's Governor General's award and author of One of the Kinder Planets; Deborah Ellis, author of The Breadwinner; Eoin Colfer, author of the Artemis Fowl Books.