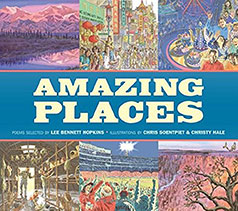 edited by Lee Bennett Hopkins
illustrated by Chris Soentpiet
and Christy Hale
Lee & Low Books, February 2, 2018
Language: English
Paperback: 978-1620148051
40 pages, ages 6 and up
In this collection of original poems, acclaimed anthologist Lee Bennett Hopkins brings together fourteen selections that celebrate through poetic imagery some of the amazingly diverse places in our nation. These include Denali National Park, the Oneida Nation Museum, San Francisco's Chinatown, the Grand Canyon, the Ringling Circus Museum, Harlem, the Liberty Bell, Fenway Park, and more. The poems as a whole take readers on an exciting multiethnic travelogue around the United States and encourage a positive appreciation of our country's historical, environmental, and cultural heritage.
The inspiring and insightful poems were created by some of the best-known authors writing for children, including Alma Flor Ada, Jaime Adoff, Joseph Bruchac, Rebecca Kai Dotlich, Nikki Grimes, J. Patrick Lewis, Jane Medina, and Linda Sue Park.
Captivating illustrations by award-winning illustrators Chris Soentpiet and Christy Hale feature well-researched settings that infuse the poems with vibrant life and atmosphere.
Readers of all ages will want to visit each amazing place again and again.
Best Children's Books of the Year, Bank Street College of Education
Notable Poetry List, National Council of Teachers of English (NCTE)
Parents' Choice Recommended, Parents' Choice Foundation